Membership
Membership Benefits
ICAI Sydney Chapter strives to create various platforms that encourage growth and widen networks within the finance, tax and accounting community in Sydney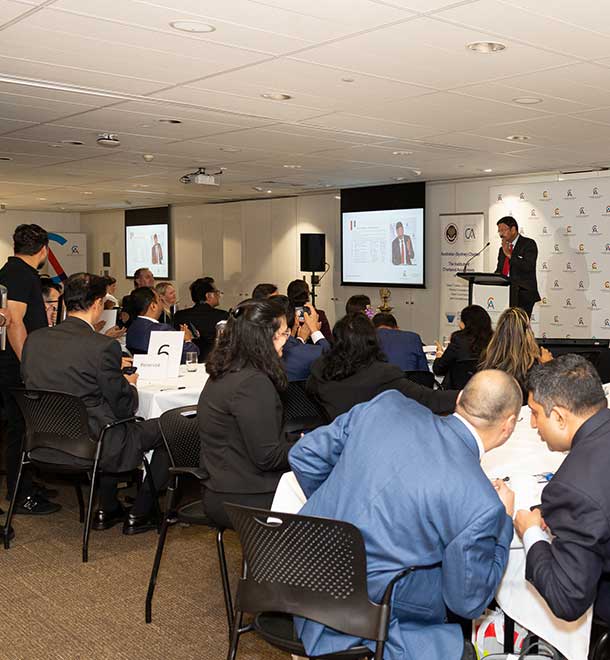 Attend courses that lead to awarding credits for Continuing Professional Education (CPE hours).
Members may note that CPE hours are mandatory to continue their membership with ICAI
Attend Seminars and Programs conducted by the Chapter on matters of professional relevance and importance to further their knowledge
Networking among the members for furthering professional interests through interactive networking sessions or through forums and emails through the Chapter's own website
Contribute Articles on professional and contemporary topics for publishing in the Chapter's website/newsletters.
Our Chapter provides a platform for interaction and networking opportunities with members of other accounting and professional bodies like CPA Australia etc.
Take part in the various social get together functions such as Vivid Cruise, Diwali celebrations, Women's day event etc.
01
Networking
Access to members with experience & diverse roles such as CEOs, CFOs, CXOs, Partners, Bankers, Wealth & Family Office Managers, Traders across industries. Informal support system via mentoring & personal bonds.

02
Events
The Sydney Chapter curates attractive professional events and seminars on topics that are relevant, trending or emerging. Events are entitled to earning CPE credits.

03
Knowledge Series
Sharing of knowledge with comembers via Knowledge Series platform. Members can improve their professional knowledge and networks.

04
Promotion & Sponsorship
The Sydney Chapter is an excellent medium to promulgate offering of goods and services. Post details of your firms with comprehensive description of services offered.

05
Professional Opportunities
Unique diversity of members creates positive spin off effects to learn from members' journeys and experiences, exchange ideas and share professional opportunities.

06
Social Gathering
It organizes exciting and rejuvenating informal events and social gatherings to \foster camaraderie amongst members and families.

Join us & enjoy the benefits
Welcome
New Members
Avail up to 70 CPD hours in a year
Get the flexibility to attend events online
Be a volunteer and serve the community & more